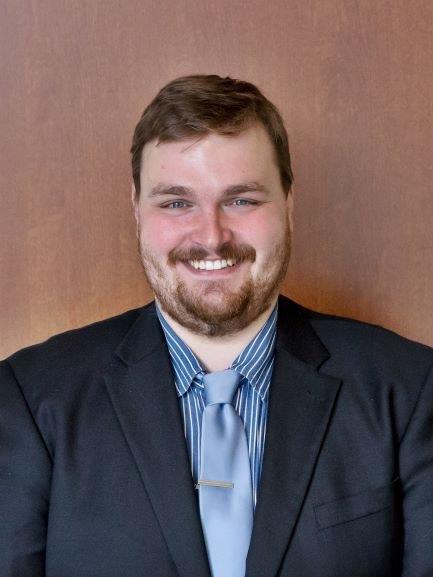 Sebastian Pernal
Biography
Education: University of Illinois at Chicago, M.S. in Bioengineering
Year in Program: M2
Mentor: Undecided
Personal Interests
 Playing and writing music
Research Interests
I want to apply my abilities in nanotechnology and bioengineering to demonstrate to my colleagues and peers that translation research with nanotechnology is possible, and the materials that we create can be directly applied to the patients for which we care.
Honors and Awards
Best Poster – Honorable Mention, BNSMA 2019, Tbilisi Georgia
Leokadia Woicehovich Marshall Endowed Scholarship, 2018
Publications
Naik et al. "Human skeletal muscle cells on engineered 3D platform express key growth and developmental proteins." ACS Biomaterials Science & Engineering 5, No. 2 (2019)
Jena et al. "Human skeletal muscle cell atlas: Unraveling cellular secrets utilizing 'muscle-on-a-chip', differential expansion microscopy, mass spectrometry, nanothermometry and machine learning." Micron 117 (2019): 55-59
Lee et al. "Nanoparticles as Therapeutic Agents for Patients With Brain Tumors." Handbook of Brain Tumor Chemotherapy, Molecular Therapeutics, and Immunotherapy (Second Edition). 2018. 229-246.
Pernal et al. "Hydroxyapatite as a Vehicle for the Selective Effect of Superparamagnetic Iron Oxide Nanoparticles against Human Glioblastoma Cells." ACS applied materials & interfaces 9.45 (2017): 39283-39302.
Engelhard et al. "A Novel Tissue Culture Tray for the Study of Magnetically induced Rotation and Translation of Iron Oxide Nanoparticles." IEEE Magnetics Letters 8 (2017): 1-5.
Uskokovic et al. "Earthicle: The design of a conceptually new type of particle." ACS Applied Materials & Interfaces 9, no. 2 (2017): 1305-1321
Venugopal et al. "Magnetic field-enhanced cellular uptake of doxorubicin loaded magnetic nanoparticles for tumor treatment." Materials Research Express 3, no. 9 (2016): 095010
Ghosh et al. "Self-setting calcium phosphate cements with tunable antibiotic release rates for advanced antimicrobial applications." ACS Applied Materials & Interfaces 8, no. 12 (2016): 7691-7708
Venugopal et al. "Quantum dot conjugated magnetic nanoparticles for targeted drug delivery and imaging." Nano Biomedicine & Engineering 8, no.1 (2016)
Pernal et al. "Photoacoustic imaging of biological tissues." UBSJ (2014): 12
Other Information
Conferences Attended:
Brain & Neuroplasticity: Structural and Molecular Aspects 4th International Symposium and School of Young Scientists 2019
AACR Annual Meeting 2018
Society for Neuroscience Meeting 2017
Frontiers in Biomagnetics 2017